Shipping Policy
FIREARMS:
By federal law, we can ONLY ship firearms to a licensed dealer. Firearms may NOT be shipped directly to you, unless you possess a valid FFL. Please note that we WILL NOT ship to C&R licenses. Firearms will ship to the FFL dealer near you of your choosing. PLEASE NOTE: It is your responsibility as the customer to contact your desired licensed FFL dealer PRIOR to purchase. Please note the following guidelines prior to purchasing a firearm.
It is YOUR responsibility to contact your FFL prior to purchase, even if they are listed on our site. If the firearm is refused, returned to sender, mis-delivered, etc., you will be responsible for any and all associated shipping fees incurred in addition to a 10% restocking fee if you choose to cancel the order.
We do our best to stay up to date with current state laws, however, it is YOUR responsibility to ensure that the firearm you purchase is legal to own in your state. If a firearm has to be returned due to non-compliance you will be responsible for any and all associated shipping fees in addition to a 10% restocking fee. If you are unsure please contact your FFL prior to purchase to inquire regarding the compliance of the firearm you wish to purchase. For state restriction guidelines please visit our State Restrictions page.
If the magazine capacity of a firearm is not compliant for your state we will ship the firearm without the magazine(s) in order to follow your state's laws and regulations. We do NOT have lower capacity magazines to replace the factory standard magazines. Firearms will not be discounted if magazines cannot be shipped with the order. We will not ship the magazines to an alternate address.
We will ship AR15s to California, however, they must be purchased already compliant for your state. We do not modify firearms for state compliance. 
FREE SHIPPING ON FIREARMS
All Handguns will ship 2nd Day Air free. Long guns will ship Ground free. Ammunition, accessories, and any other item that is not a firearm will ship Ground Live Rate based on weight and destination. Expedited shipping methods may be added for additional cost. These expedited shipping methods are subject to M-F business day operations and DO NOT include Saturday delivery. For Saturday delivery please contact us prior to purchase.
Note: Orders that qualify for free shipping will go to the initial shipping address provided by the customer, or, in the case of firearms, the address on the dealer's FFL. It is up to the customer to verify the dealer will be available to receive the items, e.g. on vacation, out sick, temporarily closed. If a package must be redirected, the customer is responsible for the charges incurred at a rate of $18 per package. If the package is returned to sender there will be an additional fee.
HAWAII & ALASKA RESIDENTS
Please note, that our free shipping on firearms only applies to the 48 contiguous states. Those residing in Hawaii or Alaska will incur shipping charges.
PUERTO RICO RESIDENTS
we currently ship to Puerto Rico and you take care shipping
PROCESSING & SHIPPING TIMES:
Processing times prior to shipment of firearm orders are normally one to three business days providing the FFL information for your purchase is provided to us. Non-firearm orders normally process for shipment within one to three business days after we receive your payment. Please note: Processing times are separate from actual shipping times. These times may vary based on current order volume. Certain brands are restricted from drop-shipment and may require shipment to our main shipping hub prior to processing out to the destination address.
*For average UPS Ground shipping times by destination please see the map below.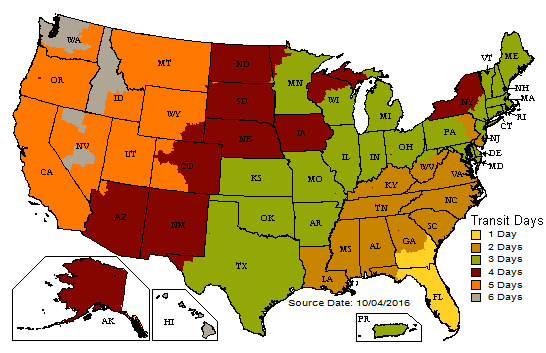 AMMUNITION:
Ammunition must ship Ground. On average, ammunition orders will, after processing time, take between 1 to 5 business days to arrive at your designated shipping address. You have the option to select Adult Signature Required on your purchase during checkout. If you decline, you are accepting responsibility for the cost of replacing stolen merchandise after delivery.
RESTRICTED ITEMS:
We will make every attempt to follow all state, county and municipal regulations regarding the sale of restricted items. However, YOU are ultimately responsible for ensuring that any items ordered are not restricted by any state, county, municipality or other regulatory agency, under whose jurisdiction you may reside, and if an item must be returned from your FFL due to non-compliance, you will be responsible for any and all fees, including return shipping and 10% cancellation fee.
EXPEDITED SHIPPING:
Expedited shipping methods may be added for additional cost. These expedited shipping methods are subject to M-F business day operations and DO NOT include Saturday delivery. For Saturday delivery please contact us prior to purchase. There is no expedited shipping method for ammunition purchases.
SHIPPING INSURANCE:
During checkout we offer this optional service as an add-on to your order. Please be advised: by opting to add shipping insurance to your order we will only cover any fees associated with a damaged or lost package DURING transit to the destination. This add-on DOES NOT cover packages that 'go missing' after successful delivery or packages that are delivered to an incorrect address (or FFL) that you selected/noted on your order. In the case of firearms, is the responsibility of the customer to ensure the FFL they select is open for business and willing to accept the transfer. ALL customers must contact their desired FFL prior to purchase. If a package must be rerouted or returned to sender due to permanent or temporary closure, refusal of package, etc. you will be responsible for any and all associated fees, even if the FFL is listed on our website. Shipping insurance does not cover any shipping delays caused by the carrier (i.e. inclement weather, missorting, etc.)
ADDITIONAL DISCLAIMERS:
Items shipped via UPS cannot be delivered to Post Office boxes. If a PO box is selected as the shipping address, we must obtain an alternate delivery address to complete the transaction and ship your items. Please note this will add additional time to get your order completed. Items will also be shipped using private and other discrete shipping companies.
Return Policy
We want you to be satisfied with your purchase. If you need to return merchandise within the first 30 days of delivery please follow the steps outlined below. Returns after 30 days will not be accepted.
**Please note that firearm purchases that are accepted from the transferring FFL are considered used firearms and returns will NOT be guaranteed. Inspect it BEFORE accepting the transfer. All sales are final on ammunition, projectiles, reloading components, clothing, cleaning solvents/lubricates, and food. Unless received defective, these items are not returnable or refundable.
Call us at 805-295-86976 or send your request for a return to info@guntraders.net to obtain authorization. No returns of merchandise will be accepted without prior authorization.
All returns on orders paid by a cash app or PayPal will receive a credit to their accounts or used on the purchase (or store credit) once confirmation of receipt of merchandise has been made and inspection has been completed. Depending on your financial institution, refunds are credited between 3 to 5 business days after issuance. All cancelled orders that paid with a money order or cashier's check will have the refund issued as store credit.
To qualify for a refund on an item that is not defective, all returned merchandise must include the following:
The merchandise must be in the original packaging.
The merchandise must be unused. Products showing excessive use will not be refunded or exchanged.
Include the following in package:

A copy of your original invoice and packing slip
The reason for your returned merchandise.

All return merchandise shipments must be pre-paid, no COD.
You must send your returned merchandise using either UPS, FedEx, or USPS according to their restrictions and provide us with tracking information.
Please ship your returned item to: 

     Guntraders.net
     ATTN: Returns Dept. 
     4320 Gage Ave,Bell,CA 90201
Upon receiving your package in our warehouse, and verification of the item is made, you will receive an e-mail with the status. This process can take up to a few weeks from start to finish.
Please Note: You will be responsible for covering the shipping fees on returned merchandise that is not-defective. A 10% Restocking Fee may apply to any returned merchandise. Firearms that are not defective and in the possession of your FFL will have a 10% restocking fee AND a shipping charge deducted from your refund. Any variance to this policy may result in no refund or a partial refund.
IMPORTANT INFORMATION ON FIREARM RETURNS:
Please take your time to inspect all firearms thoroughly at the FFL dealer BEFORE proceeding with the transfer. Once a new firearm is transferred to you from the FFL it is considered used, even if unfired. Consequently, we will not be able to guarantee acceptance of the return. Also, we DO NOT reimburse FFL transfer fees on returned items. We do understand that some manufacturer defects may not be identifiable upon initial inspection. However, upon discovering a defect AFTER the transfer is accepted, the firearm MUST be returned directly to the manufacturer for replacement or repair (in accordance with manufacturers warranty policy). By sending a defective firearm directly to the manufacturer, you can avoid the unnecessary transfer fees of returning the firearm to us through your local FFL dealer. If we do receive a defective firearm that has already been transferred, we will simply forward the firearm to the manufacturer on your behalf. Manufacturer repaired firearms can be returned directly to the customer without additional FFL transfer or associated fees. However, if the manufacturer chooses to replace the firearm, the replacement firearm must transfer through your local FFL dealer to document the replacement firearm serial number. We will not cover any additional transfer fees if that situation occurs.
By placing an order on our site you agree to the terms and conditions including all shipping, return and associated policies on this website.